Interview with Barnabas Collins
Who are your favorite authors?
Henry Miller, Charles Bukowski, Lester Bangs, T.S. Elliot, Robert Frost, Emily Dickinson, Walt Whitman, Irving Stettner, Geezer Butler.
Henry Miller for his free and easy flow and rich symbolism. He was able to see every task with a sort of zen perspective. He was always in the moment, pouring his heart out over a flower, or thinking of the well being of his children. And he always wrote with a sentimental nature towards women he was hopelessly in love with. Imagine walking away from the world he had known for 38 years in New York and going to Paris to start a new life as a writer even though he had yet to write his first novel.
Charles Bukowski because of his minimalism. The scene in Ham on Rye where he won the ROTC competition in fair measure because he was more relaxed was something that would stick in my head because Bukowski was entirely indifferent and therefore lacked the anxiety that goes along with performing because you have something at stake. Later, in Ham on Rye, he decides the study of world literature and creative writing courses wasn't the way toward his writing voice. It was the intense awareness of one's existence and separating the individual away from the expectations of relatives and society that made Bukowski and Henry Miller fascinating to me.
T.S. Eliot, Emily Dickinson and Robert Frost for their lyricism. Eliot was a master manipulator of tone. The Four Quartets plays on the mind's ear just as freely as if the lyrics are being spoken with dramatic voice inflexion. And of course, there is the dramatic tone that Eliot, Dickinson and Frost share that makes them so appealing to me. Emily Dickinson's metaphor and symbolism, particularly of death and nature were always very appealing to me, her spartan lines were so powerful with drama and I found her short poems much more to my liking than poems with many more lines. I think the French Symbolist poets Rimabud and Baudelaire were just as much of a writing influence as Eliot. I read them as a young man in my teens and could more relate to them than I could with Alan Ginsberg or most of the Beats. Although, I have always liked Lawrence Ferlingetti as someone who wrote about every day things in a very profound way, and with rich, yet minimalist symbolism. His poems are generally the length of a song and therefore play out like a performance.
Lester Bangs was a writer for Creem Magazine and others in 70s, and passed away in 1982. He had a very distinct, although shrill and dismissive tone at times. But he masterfully churned satire with the most brilliant and biting prose that one recognizes quite readily among the music critics for the rock and pop magazines of the 70s. There was a lot of humor, and satire, and the classic rock and roll narrative, and that was Lester Bangs, among others, in the 70s.
Geezer Butler, the bassist for Black Sabbath, i have read in numerous publications, was the primary songwriter for most of those great old Black Sabbath tunes, and those were some of the greatest rock and roll lyrics written. There was nice arrangement of words with the vowels and consonants which flowed well with the guitar riffs. There was always a complete message with no dangling ideas, phrases or sentences like in a lot of 80s metal. When I was a boy the lyrics were always a part of the package. And for the most part I was too self absorbed to care much for standard rock and lyrics talking about love relationships or partying. I was always reading or writing or playing guitar since 12 or 13. Or listening to music, which i did a lot of, listening to Black Sabbath. Led Zeppelin, Jimi Hendrix, the Doors. And the lyrics of these bands' songs were influential because they were bands that stood out for me because they were interesting lyrically as well as musically. If i didn't know what the singer was singing I could usually hum the notes for the same effect in my mind anyway.
Walt Whitman was optimistic about his place in the Universe, and saw the connection with the flower that henry miller couyld see, or emily dickinson, or robert frost. he also was determined to explore his own voice with a life long determination that all authors who have ever inspired me have. He published Leaves of Grass himself through many revisions, after being universally rejected by American publishers.
And Irving Stettner, who shared the same emotional, sacred experience of existence that Henry Miller did, and who gave me my first real publication credential in his Stroker magazine. It was quite an honor to have been published by someone who influenced me through his magazine as well as his drawings, postcard sketches, and handwritten notes, and the novel Thumbing Down the Riviera. The short stories and poetry he published by others brought me to the works of Paul Bowles, Henry Miller, Bukowski and Muhammad Mrabet.
Where did you grow up, and how did this influence your writing?
I grew up in a rural area in Ottawa County, Michigan. Both of my parents came from a rural living environment, saw things more from a do it yourself perspective, and were always suspect of outside influences. My mother was Catholic, and my father had converted to Catholicism because that's what he had to to in the early 60s if he wanted to marry a Catholic woman, but he kept to a more conservative and self absorbed way, a more disciplined way, both he and my mother actually, than i was prepared to conduct myself with. I wanted to explore more than rules and regulations and appearances.
The rigid old school guilt mechanism in Catholicism and the folksy way relatives would talk and banter about every day things always shared a sort of mystical quality about them it. As a catholic boy growing up in a predominant dutch protestant community the floor was laid for a very cynical and negative view on life for me, personally. I would be harassed by the protestant boys in the neighbor constantly, whether it be for my satanically infiltrated religion, or for stupidity due to my public school education. It profoundly sapped my ambition, yet at the same time, the fields and streams, the trees and wooded paths of my youth, along with the country music that was constantly on the radio throughout the day have always been a foundation of symbolism for which my poetry returns to establish root relation to a sort of engagement with divinity.
When did you first start writing?
In the third grade. My teacher, Ms. Gunn saw how much I talked in class and how easily I applied the words I used in conversation with others to a story I had written about my baseball cards. She encouraged my parents to encourage my writing capabilities, but I fell short of ambition, and my parents just didn't know how to stir me try to succeed at things I wanted to succeed at, like writing or art. They didn't intend for me to go to school, and so it never really made much sense to them to encourage dreams like becoming a writer. But I was like Bukowski anyway. I didn't particularly find the world of academia much to my liking, and I always felt the need to express myself in a unique way which I began developing at the age of 8 and have continued now through my 50th year.
What's the story behind your latest book?
My recently published ebook, The Songs of Barnabas Collins, is actually the first chapbook of poems that I have published. I have published many, many lines of scratch lyrics on daily blogs and social media profiles, along with my guitar pieces, but these 18 poems were about what I wanted to express as a 50 year old man looking back at the symbolism of his life, the places and faces that populate a lifetime, the bodily changes, as well as sort of turn the mirror on the mind reflecting. I am a lyricist who plays guitar, but who doesn't sing accompaniment to guitar. My lyrical creative processes and my instrumental creative processes with the guitar have always had sort of divergent paths. And so, although I do write lyrics on occasion to the music I write, much of the word flow and cadence comes from the mind jumping on a moving train of notes that it is able to churn while it formulates lyrical accompaniment based on the imagery the mind conjures and the associations and emotions the self attaches to it.
What are you working on next?
I am in the process of editing a number of short stories which I hope to be publishing in the coming next few months through Roaming Snyder Press. These are stories which I published on various blogs, Facebook, Tumblr or a website in the past ten years or so, and which have gone through various revisions and survived in my writing file folder. And for the most part they are under 500 words each. I have always stuck with an extended metaphor style of short story writing influenced by the short stories of Bukowski, the aphorisms of Nietzsche, and the satire of Lester Bangs. I also like my delivery for a story to stay between 200 – 500 lines. So there may be a dozen or so stories published in a chapbook that will relate to a common theme.
Roaming Snyder has also published two musical EPs of my work recently. One is an acoustic guitar instrumental Ep titled Nettles and Dust, and is comprised of four songs. The other is a hard rock guitar instrumental Ep of four songs featuring drummer Joe Connolly and bassist Robby Mason titled Cauldron of Crows. You can look for these on most online digital musical providers. I am working on chapbooks of lyrics to be told to the music of each of these Eps, but it won't be until the Fall of 2015 that these will be ready. But when they are are ready I will include them in a short print run of CDs with a number and signed. I am very proud to have these wonderful players making magic in the studio with me, and to have a producer like Matt Ten Clay at Amber Lit Audio in Grand Rapids, Michigan.
So, like many other writers out there struggling for recognition, I keep plugging away at two full time jobs…one which pays the bills and provides balance of activity and emotion, and the other, musical and lyrical composition, which basically pays nothing at this point, but is absolutely necessary for me, and is part of my way of life. Music and art are basic ways for me to order the world into something that my mind can make sense of.
What inspires you to get out of bed each day?
That is a very good question. Most of the time I am scared out of bed by mind craving attention and feeding me all sorts of guilt laden bullshit based on my Catholic background, but if not, it is always a certain task that I can jump right into and not wonder too much about, something that keeps me from wondering that such an old dude can still get out of bed relatively pain free.
So I am either working through some poetic sequence I made up, or thinking about how a pattern of guitar notes is supposed to sound. And maybe feel some sort vibration, some sort of energy from those notes or syllables or symbols as I churn them in my mind and through from my fingers. The finger and the mind feed each other whether writing or playing guitar, and before I know it, a four hour block of time has flown by and I have to decide what else I am going to do with the day.
When you're not writing, how do you spend your time?
When I am not writing I am busy spending time on the things that I will eventually write about. My regular job takes me from town to town, and I get to see and feel the faces, the energy of different pockets of population, and hear through their conversations the things important to their lives. The every day events that comprise a person's life, things which we thread our outlook, our attitudes and our thoughts of self and how we influence others… my mind acts as an intuitive collector of voice inflection and body language that we use to express ourselves, because the tone we use sometimes belies attitudes we don't necessarily convey with our words. I have always been fascinated with our willingness to be led by those who always smile and never raise their voice. The dog can be called the meanest of names, but if it is accompanied with a smile and singing voice that masks hostility or negativity towards those whom the words are intended, the dog doesn't know any better and will lick his tormentor's hand.
It is this human differentiation between disinterested 3rd person narrator of the mind and all inclusive first person observer which I tend to take notice of whether I am in a restaurant, a courthouse, a library, or a museum. I imagine there to be both a break and an engagement we all have between the conscientious first person observer of self, and the disassociated 3rd person whom we imagine as seen by others, but with which we are mistaken because it is simply a disassociated part of self which we have assigned a 3rd person narrative. It is still the story we are telling ourselves through the first person.
I try to realize how my first person is making associative evaluations on others and environment based onpersonal historical events, while at the same time letting that first person make its associations without too much interference, and realizing how others' third person narratives may be influenced by their own third person desires and associations.
Do you remember the first story you ever wrote?
Yes, it was about my baseball card collection. It was in the 3rd grade and I was eight years old. I think what caught the attention of my teacher was that I didn't seem encumbered by the idea of writing, that writing seemed very natural to me, and that I didn't seem to have trouble saying anything that I couldn't already express. I always talked of myself as though I were a narrator, a commentator of what I was witnessing, and this teacher and a few others after, chose me directly and without any hesitation as the narrator of some school play.
These teachers all may have also witnessed a great deal of anxiety, but I may have been able to mess up in front of an audience, like I did on a few occasions (thank you, little Jodi, my backup narrator who stood off behind the curtain and mouthed to me the words that I had forgot) because I had a sort of a cold rigidness about me that would allow me to shut the audience out and not allow them to influence the first person narrator in my mind.
The narrator of the baseball card story was as unflinchinchingly first person determined as the narrator at the 3rd grade drama narrator who was lucky enough to not have a panic attack, and was able to stand there and ask the backup to repeat the line twice and not kick himself over messing up because in the play he was more cognizant of himself of the first person and identified himself as an adaptation, and not that of a a dissassociative function of the first person narrative whom he imagines to be a first person narrator to a crowd.
What is your writing process?
For me, most of my creativity begins with sheer emotional response to something. There is a certain vibration in a picture or an image, the cadence of a sequence of words that pop into your head which fuels your mind emotionally, and you sort of jump into the cart waiting for you on a rail and take off. The vibration could come from a simple walk in the park or a video of a horseback ride, and it triggers other associations, historical, textual, imagery, sounds, smells or tastes that leave you with a general attitude towards the environment which you tap into for a quick and easy flow of narrative as you are typing out what your mind is conjuring.
How do you approach cover design?
I like to draw and paint. I don't really do either well at all, but what I do is try to match up colors and lines in imagery which expresses what my mind is showing me inwardly. Again, I am an emotional person, so I will always have emotional attachments to sounds, colors, harmony and melody. All I do with my drawing is to illustrate for the eyes and not the ears, and that means color and text. (which I guess, ironically, does lend to the ears because if not for the ears you wouldn't be able to differentiate those magical tones of musical universality… text then is a bridge of sorts between the eyes and the ears)…So, in any event, I try to make conceptual associations between the imagery on the cover, and the names of the songs. I do this with my covers for chapbooks of poetry and my covers associated with my guitar instrumentals.
Published 2015-03-17.
Smashwords Interviews are created by the profiled author, publisher or reader.
Books by This Author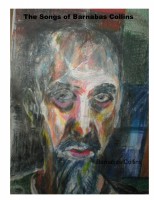 18 songs by Barnabas Collins covering the emotional reaction to birth, life, and death, and facing the horror of awareness we as humans all must face. From the elementary school child, to the reactionary ideologue that a person seemingly becomes, along with old age that follows, Collins captures the emotional bond of the old man as he looks back toward his childhood and views a commo